Welcome to the DEATH BATTLE Wiki!
Death Battle is a show where cast members Ben Singer and Chad James a.k.a Wiz and Boomstick choose two fictional characters in pop culture whether they're from a comic, movie, or video game and analyze their weapons, armor and skills and have them fight each other to see who would win a DEATH BATTLE.
Rules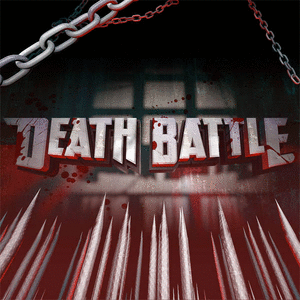 1. No spamming
2. No flaming
3. Don't create pages for Death Battles that don't exist or characters that aren't in a Death Battle yet. That's what the Death Battle Fanon Wiki is for.
4. In order to avoid spoilers, please don't create pages for confirmed Death Battle combatants and fights unless they are the ones shown in he preview of the most recent fight. And even with that, wait a bit before adding their pages, just so that others aren't spoiled on the next fight either.
5. This wiki was created to be a place where Death Battle fans can talk to each other about Death Battle, not so that you can bring up points about why Death Battle got one of their fights "wrong". EDIT: This rule is currently being disputed. Go here to help decide whether or not it should stay.
Also, this wiki is in no way affiliated with Screwattack or the show itself. So while you can share your ideas for fights here, do not expect Screwattack to see them.
Official Wiki Death Battle Wishlist
Have a Death Battle you want to see? Leave a comment here.
Polls
Community Fight Suggestion of the Week
Arceus (Pokemon) VS Amaterasu (Okami). Who do you think would win?
Character Opponent Suggestion Poll
If Zuko (Avatar) were to get into Death Battle, who would you want him to fight?
Series Character Suggestion Poll
Which Mario character would you like to see be in a Death Battle?
Upcoming Fight
Upcoming Death Battle: Wolverine (Marvel Comics) VS Raiden (Metal Gear). Who do you think will win?
Bonus Poll
Who is your favorite Disney character on Death Battle?