Home
Talk

0
148pages on
this wiki
Welcome to the DEATH BATTLE Wiki!

Edit
Death Battle is a show where cast members Ben Singer and Chad James a.k.a Wiz and Boomstick choose two fictional characters in pop culture whether they're from a comic, movie, or video game and analyze their weapons, armor and skills and have them fight each other to see who would win a DEATH BATTLE.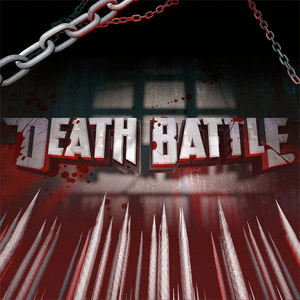 1. No spamming
2. No flaming
3. Don't create pages for Death Battles that don't exist or characters that aren't in a Death Battle yet.
4. In order to avoid spoilers, please don't create pages for confirmed Death Battle combatants and fights or say which of the two combatants won until after the fights are made public.
Also, this wiki is in no way connected to the Screwattack or the show itself. So while you can share you're ideas for fights here, do not expect them to be seen.
If you need help, feel free to ask me or go to the [Help Wiki] for more information
Official Wiki Death Battle Wishlist
Edit
Have a Death Battle you want to see? Leave a comment here.
Admin Help
Edit
This Wiki is in need of an admin. Cast your vote here.
Community Fight Suggestion of the Week
Edit
Danny Phantom VS Jake Long. Who do you think would win?
Character Opponent Suggestion Poll
Edit
If Scorpion (Mortal Kombat) we're to be in Death Battle. Who would you want him to fight?
Upcoming Fight
Edit
Upcoming Death Battle: Epyon vs. White Tigerzord. Who do you think will win?
Bonus Poll
Edit
MARVEL VS DC DUO BATTLES! Who do you think the victors of Iron Man VS Lex Luthor and Deadpool VS Deathstroke would be?