Welcome to the DEATH BATTLE Wiki!
Death Battle is a show where cast members Ben Singer and Chad James a.k.a Wiz and Boomstick choose two fictional characters in pop culture whether they're from a comic, movie, or video game and analyze their weapons, armor and skills and have them fight each other to see who would win a DEATH BATTLE.
Rules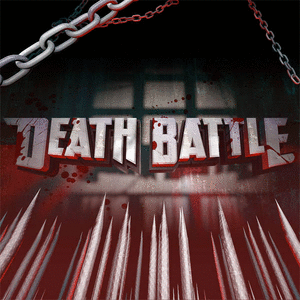 1. No spamming
2. No flaming
3. Don't create pages for Death Battles that don't exist or characters that aren't in a Death Battle yet. That's what the Death Battle Fanon Wiki is for.
4. In order to avoid spoilers, please don't create pages for confirmed Death Battle combatants and fights unless they are the ones shown in the preview of the most recent fight. And even with that, wait a bit before adding their pages, just so that others aren't spoiled on the next fight either.
5. While not exactly encouraged, you are allowed to debate against an episode's verdict. However, if it gets out of hand or you doing it far too often, action will be taken against it.
6. Comments, Blogs, or Forum posts about the VS Battles Wiki or other websites will be removed on sight due to the fact that all they've done is start flame wars. This behavior is not okay and will earn a block if continued.
7. For the sake of not creating unnecessary categories, please ask one of our admins about it before making it.
8. We're not incredibly strict on off-topic comment threads, but we ask that you still take part in discussion on the show and make your own comments related to it.
Also, this wiki is in no way affiliated with Screwattack or the show itself. So while you can share your ideas for fights here, do not expect Screwattack to see them.
Polls
Community Fight Suggestion
Tracer (Overwatch) vs. Scout (Team Fortress 2). Who do you think wins?
Character Opponent Suggestion Poll
If Sephiroth (Final Fantasy VII) were to ever be in Death Battle, who do you want him to fight?
Series Character Suggestion Poll
Which RWBY character do you want to see in Death Battle the most?
Upcoming Fight
Next time on Death Battle is Agent Carolina VS The Meta! Who do you think is going to win?
Bonus Poll
Least Favorite Season 3 episode so far?